Comet Hyakutake spring 1996. The tail stretches across the sky in this fisheye lens portrait.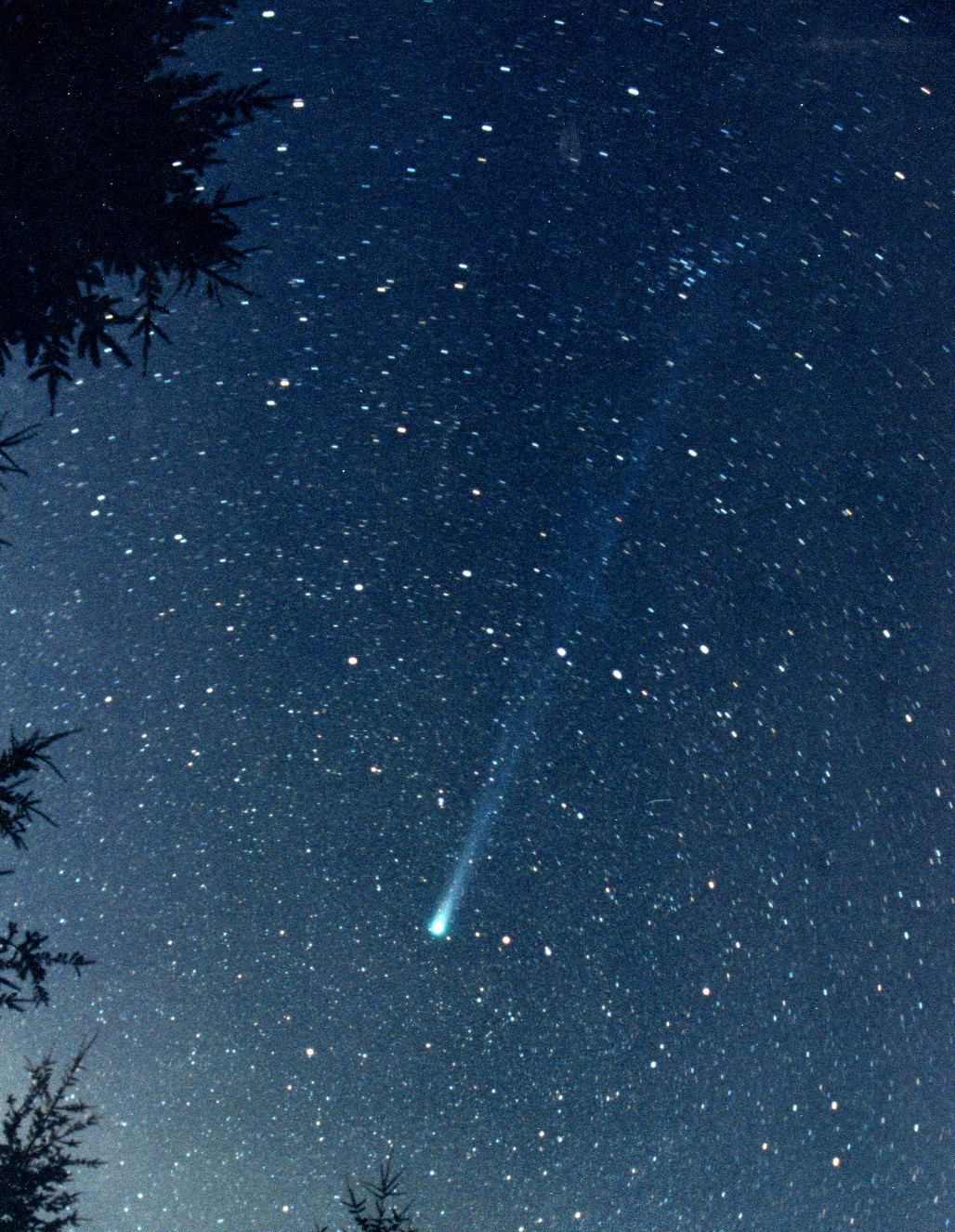 About Mel
For my part I know nothing with any certainty,
but the sight of the stars makes me dream.


Vincent van Gogh



In elementary school, for an assignment titled "If You Could Make Two Wishes and Have Them Come True, What Would They Be?", I wrote "My first wish would be to have a flying saucer that had telescope in it. My second wish would be to be a great music player." Well, I am an amateur astronomer, I played trumpet professionally for many years, and have a pilot's license.

Mel Bartels is the Software Development Manager at FabTrol Systems. Previously he worked as a software architect and team lead/senior developer, specializing in production optimization and MRP systems. In 1988 Mel began developing a freely distributed telescope control system that is in use worldwide. He's ground dozens of telescope mirrors, leads mirror making classes, and conducted a workshop where attendees figured 16" mirrors. His interest in innovative mounting designs led to popularizing ultralights with single upper rings in 1994, inventing the TriDob in 2003 and the ZipDob in 2008. A speaker at astronomical conferences each year, his telescope walkabouts at the Oregon Star Party are a highlight that attracts hundreds annually. He ran the Amateur Telescope Makers listserv for six years, a worldwide group sharing the art of telescope making. The International Astronomical Union named asteroid 17823 Bartels for his contributions to amateur astronomy. A past president of the Friends of Pine Mountain Observatory, in earlier days he was also president of the Univ of Oregon student chapter of the MENC. Mel played trumpet professionally for many years, both classical and jazz, taught in the schools, and has a pilot's license.

I had a lot of fun in HS - music, chess, science - sounds all pretty geeky thinking back on it. Our chess team was undefeated in the northwest for several years and won the state championship 4 yrs running. One year I managed to place 6th-11th in the national HS championships in NY. I was also fortunate to win the state solo contest for trumpet two years in a row.


Speaking Engagements
ALCON Aug '07, Portland, Oregon
Altaz Initiative, Meter-Class Astronomy Conference, Jan '12, Waimea, Hawaii
Altaz Initiative, PDX Workshops, July '06, Aug '11, July '12, Portland Oregon
Atlanta Astronomy Expo, May '01, Atlanta, Georgia
AstroImage 97, Orange County, California
Battle Point Astronomical Society May '99, Nov '04, Bainbridge Island, Washington
Boise Astronomical Society, June '00, April '03, Boise, Idaho
Dallas Astronomical Society, June '98, Dallas, Texas
Golden State Star Party, July '12, Adin, California
Idaho Star Party, Sept '04, Boise, Idaho
Image The Sky, Nov '99, June '04, July '05, Salem/Portland, Oregon
International Mars Society meeting star party presentation, Aug '03, Eugene, Oregon
International Optics Workshop, Bellingham, Washington, speaker most years
Laurel Highlands Star Cruise, June '04, Morgantown, West Virginia
Mt Bachelor Star Party, Sept '02, Aug '03, Aug '08, Bend, Oregon
NEAF (Northeast Astro Forum), Apr '05, New York, New York
Oregon Star Party, 'scope walkabout' held every year, Prineville, Oregon
Okie-Tex Star Party, Oct '99, Black Mesa, Oklahoma
Rose City Astronomer's April '99, Sept '06, Portland, Oregon
Roseburg Astronomical Society, Nov '01, May '02, June '03, Aug '04, Roseburg, Oregon
RASC, June '07, Vancouver, British Columbia
RETA (REunión de Telescopios de Aficionado), August '10, Aras de los Olmos, Spain
Spokane Astronomical Society, April '07, Spokane, Washington
Starfest Aug '07, Eau Claire, Wisconsin
Table Mountain Star Party, Aug '05, Ellensburg, Washington
Telescope Optics Workshop, Mar '99, April '00, April '01, Bellingham, Washington
The Wilderness Center Astronomy Club, Nov '99, Wilmot, Ohio
Winter Star Party, Feb '02, West Summerland Key, Florida


Books, Articles, Magazines, Photos
Contributing author,

Lightweight Alt-Az Research Telescope Developments

, publisher Collins Press
Contributing author, Amateur Telescope Making, publisher Springer
Contributing author, Best of Amateur Telescope Making Journal I and II, publisher Willman-Bell
Contributing author, Encyclopedia of Astronomy and Astrophysics, publisher Nature Publishing Group, Macmillan Publishers
Circuit Cellar article appearing in May, '00
Sky and Telescope articles appearing in April '79, (pictured in Nov, '99), April, '00, Aug '04, Jan '12
Featured in The Oregonian, Sept 3, '97, C8
Featured in Air and Space, Dec/Jan, '98 pg 38
Cover story for Amateur Telescope Making Journal, #12, '98
Mentioned in Astronomia (Italy), pg 49, April, '97
Photo in Windows Tech Journal, Dec '92, pg 58
AstroRapport (Norway) article, nr.4, '95
Observatory Techniques #12, '94
Northwest Astrophotography Show, '96, 2nd place


Poetry
A meteor's streak,
a sweet remembrance flashes in my heart,
my mind's eye.
My soul's moment's tug,
at the corners of my lips,
my eye's brief glitter.
The meteor swiftly fires,
my illumination dwindles softly;
illimitable passion to the hushed stars.


Mel Bartels, 1995



Oh, I have slipped the surly bonds of earth
And danced the skies on laughter-silvered wings;
Sunward I've climbed, and joined the tumbling mirth
Of sun-split clouds -- and done a hundred things
You have not dreamed of -- wheeled and soared and swung
High in the sunlit silence. Hov'ring there,
I've chased the shouting wind along, and flung
My eager craft through footless halls of air.
Up, up the long, delirious, burning blue
I've topped the windswept heights with easy grace
Where never lark, or even eagle flew.
And, while with silent, lifting mind I've trod
The high un-trespassed sanctity of space,
Put out my hand, and touched the face of God.


John Gillespie Magee 1940, often quoted after the 1986 Challenger accident



"If we die, we want people to accept it. We hope that if anything happens to us it will not delay the program. The conquest of space is worth the risk of life." -

Gus Grissom





Carl Sagan's

Reflections on a Mote of Dust
Ann Druyan on science and wonder


Flying
Piloting over the Cascades of central Oregon; flying over the rim of Mt St Helens